Some individuals believe that the type of luggage someone carries reflects their rank and level of money. They make luggage with a sturdy soft material or a hard shell to protect the contents during travel. Internal partitions or compartments are frequently present in luggage to help secure contents.
Travel lovers are constantly seeking intelligent packing strategies that will allow them to include more necessities in their bags. You may have heard the phrase "less is more," and it couldn't be more accurate when packing for a vacation because space is at a premium.
Whether you're on a weekend trip or staying for a month at one of your favourite locations, several packing tricks might help you carry more and save room while travelling. Since the days of a rubber sink stopper and a pair of adapters floating about free in your suitcase, ravel Gadgets have advanced significantly.
There is a tone of travel gadgets that may make your trips more pleasurable, organized, and exciting, thanks to technology and creativity! In light of this, we highlighted the top travel accessories you'll really use in 2022. You can also add sunglasses with a camera in your luggage.
These clever devices fundamentally alter how we view the world and are essential for today's travelers. They provide solutions to some of the most vexing travel issues, keep our belongings organized when travelling, and serve as the ideal travel presents for travelers on the go.
Here are fantastic travel gadgets that will make your journeys smoother, safer, or more fun.
Smallest Travel Steam Iron in the World
The smallest of its type in the globe, this little portable steam iron has a 420-watt motor and three fabric heating settings. The little gadget, approximately the size of a computer mouse, may be helpful for business travelers who are out and about and need to iron clothing that inevitably wrinkles.
No-Sand Beach Mat
Greetings, beachgoers! The C-Gear Original Sand-Free Mat is a ground-breaking beach item that is practically impossible to cover with sand. This ingenious sand-free ground sheet, created initially for military use, is ideal for a carefree beach day. Finally, the irritatingly sticky sand is gone! Now you may maximize your time at the beach by relaxing in the sun, reading a book, or setting up a picnic.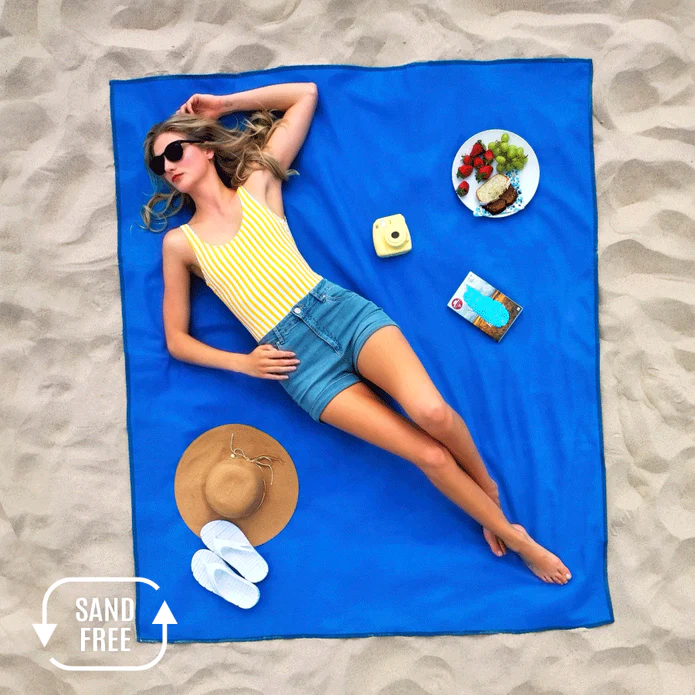 Photo from www.cgear-sandfree.com
Power Bank & Portable Wi-Fi Hotspot
You won't need to be concerned about international SIM cards or roaming fees while using Sky roam Solis. This brilliant connection device, which ranks among the top mobile Wi-Fi hotspots, provides limitless 4G LTE coverage in more than 130 nations. Each gadget has a built-in 6000 mAh power bank that allows it to function as a portable charger for your phone or tablet while you're on the go and supports up to 5 connections. You may browse the internet with no limits for the entire day for $9 with a day pass.
Multipurpose Backpack
This carry-on backpack was made with business travelers in mind and featured a clever, adaptable design that enables you to convert it from a pack to a shoulder bag to a briefcase in a matter of seconds. This challenging and stylish convertible bag, which use as a daypack or travel companion, offers space for all your business and electronics requirements and keeps them organized with various pockets and compartments.
Optimum Tree Tent
With the Tentsile Connect Tree Tent, a suspended two-person shelter that combines a hammock's convenience and adaptability with a tent's safety, you can navigate the woods like an expert. With fold-away doors and a detachable rain fly, this excellent camping equipment is for the best arboreal camping experience. It can also be connected to other Connects to form a suspended super-camp.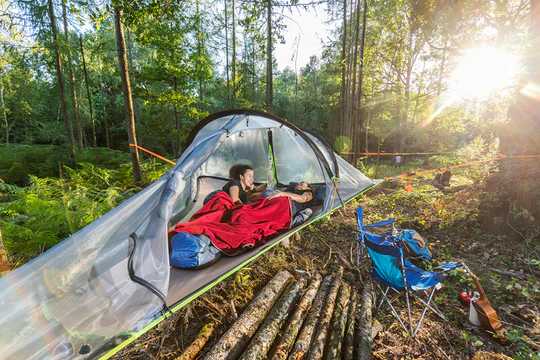 Photo from www.tentsile.com
Sunglasses for recording video
The second version of Snapchat's video recording glasses will win over its users. Similar to their initial product, Spectacles V2 not only appear hip and attractive but also shield your eyes from the sun. However, its primary purpose is to capture snaps of your day and sync them to your Snapchat Memories, making it a fun travel accessory whether you travel domestically or abroad.
Photo from www.spectacles.com
Mobile Breathalyzer
The BACtrack Vio Smartphone Keychain Breathalyzer, which works with Android and iPhone smartphones, is a fun and reasonably priced solution to determine your Blood Alcohol Content (BAC). The device, which appears like a USB flash drive, syncs with your smartphone using the free BACtrack app.
Your travel eSIM
When you travel the best way to stay connected to the internet, as well as to your loved ones, without incurring into roaming fees, is by means of an eSIM. eSIMs occupy absolutely no space in your luggage and allow you to surf the web with convenient mobile data plans while traveling abroad. If you don't know what an eSIM is visit this page to discover more.

Conclusion:
Luggage is either made from a sturdy soft material or a hard shell to protect the contents during travel and internal partitions or compartments are frequently present in bags to help secure contents and carry useful items. 
Travel Gadgets provide solutions to some of the most vexing travel issues, keep our belongings organized when travelling, and are nice travel presents for dynamic travelers.
We hope this article will help you manage your luggage better with the selection of gadgets it contains.