We are not yet travelling on spaceships, we are not yet living on Mars, but our "travelling space" has changed dramatically in the last years and as tourists sometimes we may feel like aliens in strange places called "hi-tech hotels". A rapid digital revolution and incredible technological innovations have transformed the hospitality landscape. However this wasn't an unpredictable change as the digital revolution has steadily been pervading all aspects of everyday life – public administration, culture, education, industry etc. – affecting travelling habits as well. Technology and digitalization are changing the way travelers of all kinds travel both in the luxury and in the budget travel segments.
Facts and trends:
According to Europe's Digital Progress Report 2017, drawn up by the European Commission, Denmark, Finland, Sweden and the Netherlands have the most advanced digital economies in the European Union, followed by Luxembourg, Belgium, the UK – before Brexit – and Ireland. On the other side Romania, Bulgaria, Greece and Italy have the lowest scores on the index.
The world-wide-web, social media, apps and digital maps have given travelers of the world the opportunity to explore any place without moving away from their sofa. This is a huge change compared to the way people used to travel just 20 years ago and things keep changing and evolving fast! So what's next now? Virtual Reality and Artificial Intelligence applications are bringing new experiences in the hospitality sector. Expedia is introducing the possibility for its users to experience a room by means of virtual reality applications before booking it.
"Imagine if you could search for flights, walk to the plane to select your seat, book and pay for your trip using Virtual Reality. We live in a 3D world, why shouldn't we shop for travel that way?" That's the question Navitaire, the travel technology company asks. The company, which is a subsidiary of Amadeus, created a Virtual Reality simulation in which people can search for global destinations and view airplane's seats and places where they could travel. For now it's still in a development phase with a patent pending, but Navitaire's project could change the whole idea of travel.
Thaks to Virtual Reality, tourists can use their iOS or Android phones to visit places normally closed to the public, destinations that are off-limits, dangerous places or protected heritage sites. Talking about Artificial Intelligence, online players are exploring the possibility of introducing chatbots to aid in trip planning, providing real time and user-tailored information. Furthermore Artificial Intelligence is not only experienced through software anymore but it's also delivered through smart devices and real robots providing lots of services and assistance to their users.
So let's see now what some of the most high-tech hotels of the world look like:
Yotel in New York, aims at solving the problem of luggage storage once and for all. No more mess in the room thanks to a hi-tech storage space for luggage: a robot takes care of your suitcase placing it into a glass-walled storage area assigned to guests by typing a pin number. This is just one of the many computerized services offered by the Hotel, services like motorised beds, kiosk check-ins and motion-activated air conditioning.
Aloft Cupertino, in Silicon Valley, United States, in 2014 inaugurated its first hi-tech humanoid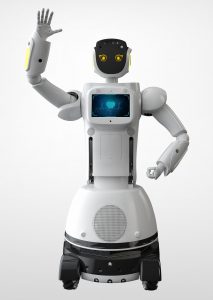 called Botlr. Thanks to multiple sensors, 3D cameras and Wi-Fi, this robot is able to move up and down across the hotel floors performing room deliveries. Since then several other hotels started introducing robots used to handle repetitive tasks. Las Vegas luxury hotel Mandarin Oriental, has a humanoid robot that's called Pepper. It is very similar to a human: thanks to facial recognition technology it can guess guests' gender, age and even mood! With its lifelike gestures it can also entertain guests by providing directions, telling jokes and posing for selfies. The Sheraton Los Angeles San Gabriel, which opened recently, is a 288-room hotel with eight robots that can deliver luggage and towels, offering also directions to guests.
In the japanese hotel Henn na, Tokyo, guests are welcomed by robots. The real oddity is that they are dinosaur-shaped ones. The Henn na has been the first hotel entirely staffed by robots speaking all the languages needed to satisfy even the most demanding foreigner. These robots greet you at the reception and they carry your luggage to your room where thanks to face recognition capabilities the room keys are not necessary anymore. In Japan again, the Weird Hotel, in the southwestern city of Sasebo, went one step further intruducing humanoid staff members waiting at the front desk to check you in. These robots speak English, Chinese Korean and Japanese.
The hotels mentioned above are mostly high end hotels. However technology goes beyond luxury and is also present in budget hotels! The City Hub, in Amsterdam and Rotterdam, is a valid and new alternative to old-school hostels and an excellent solution for low-cost travel. This innovative hotel has 50 minimalist private cabins, called Hubs, with a double bed, wifi, app-controlled lighting and a personal audio streaming system. You can't loose your room's key because you're given a wristband that electronically unlocks your door. Thanks to the hotel's custom app, it is also possible to change the lighting color of the rooms according to mood.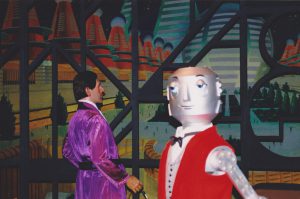 Another technology worth mentioning is Virtual Reality that never ceases to amaze its users. If you order "The Origin", a whisky cocktail, at the Lobby Bar of the One Aldwych Hotel in London, you will also get an immersive virtual reality experience. "When someone orders it, we give the guest virtual reality goggles and a headset and explain we are taking you to the origin of the drink. You fly to the distillery where the whisky is aged, and then to the fields of barley and to the water source", said the drink's creator, bar manager Pedro Paulo. Last but not least, we want to mention a very peculiar technology application in the hospitality business: thanks to Nissan, the ProPILOT Park Ryokan, located in Hakone, Japan, is equipped with self-parking slippers, tables and floor cushions! Yes you read it right! This hotel looks like any other traditional Japanese inn, but these accessories are equipped with a special version of Nissan's ProPILOT Park autonomous parking technology meaning that when not in use, they automatically return to their designated spots, with the push of a button.
Despite all the hi tech "whistles and bells" and exciting futuristic services described so far in this article, more conventional technologies like social media and phone apps are still strong players on the battlefield of innovation and are always pushing forward.