For years, hoteliers looking to enhance their guests' travel experience have been using apps to make travel more convenient and personalized. However, while apps have been used by reputable hotel chains like Marriot International and Choice Hotels, they're quickly becoming a thing of the past when compared to the capabilities of hotel smartphones like Manet.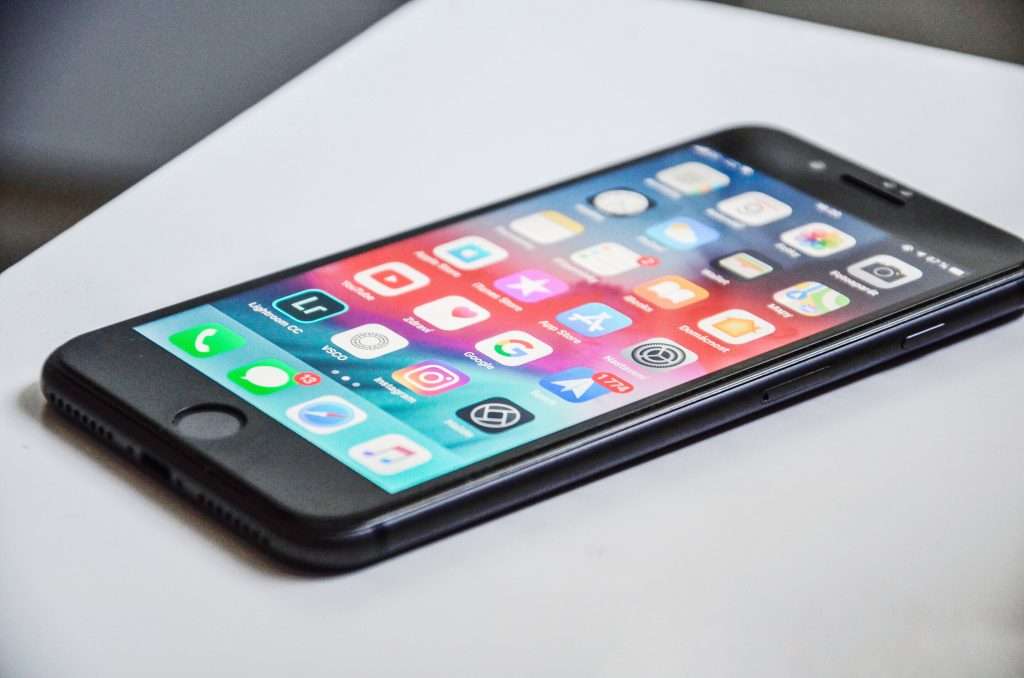 With the proven ability to improve guest satisfaction, these devices manage to do everything an app can do and far more. The hotel smartphone, or rather, Manet mobile travel assistant, is already being used in many hotels across the world and is quickly becoming a favorite of travelers and hoteliers alike. The reason? There's plenty.
What Is a Mobile Travel Assistant?
A mobile travel assistant is exactly what it sounds like. Someone in your pocket who can recommend restaurants (and keep you from the bad ones), help you book trips and activities, and even help you navigate the city. Devices like the Italian Manet traveler smartphones are a high-quality replacement for the apps that guests don't bother downloading, have trouble accessing, or simply can't figure out how to navigate. A mobile travel assistant completely eliminates this hassle. The smartphone is there for the guest in their room, packed with features, equipped with a SIM card and ready to be used for the duration of their stay.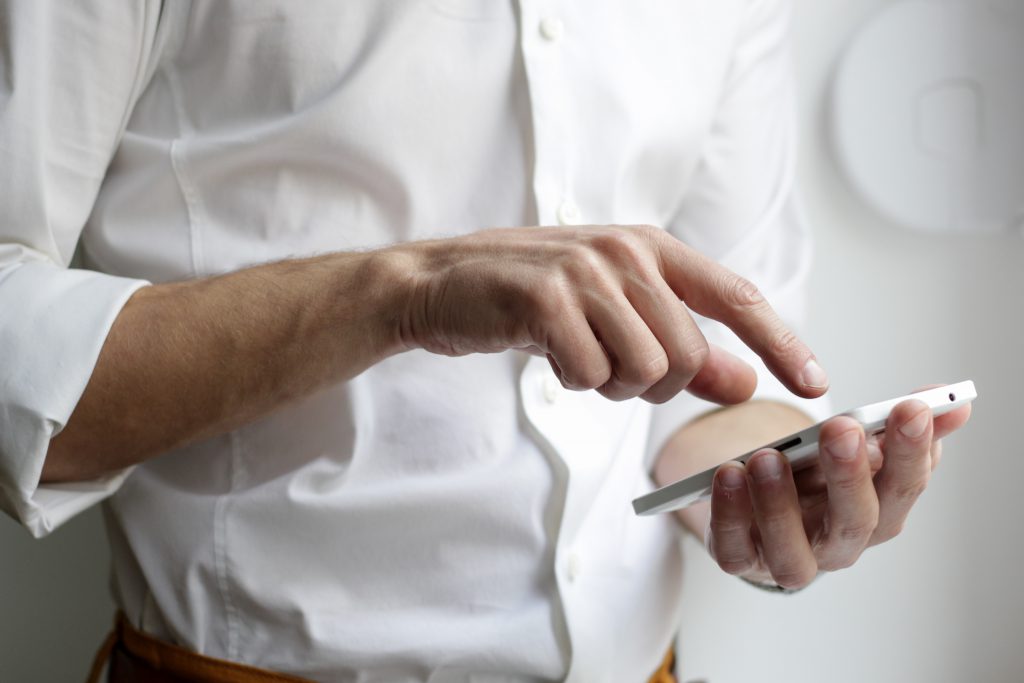 The Hotel Master Key
There are so many small cards and devices that hotels use to enhance their guests' experience. What if these devices were all centralized into just one smartphone? The Manet traveler smartphone can replace a wide range of hotel tech, including:
Room Key
Smart TV Remote Control
Bulky Hotel Room Phone
Air-conditioner Remote Control
Room Lighitng Controller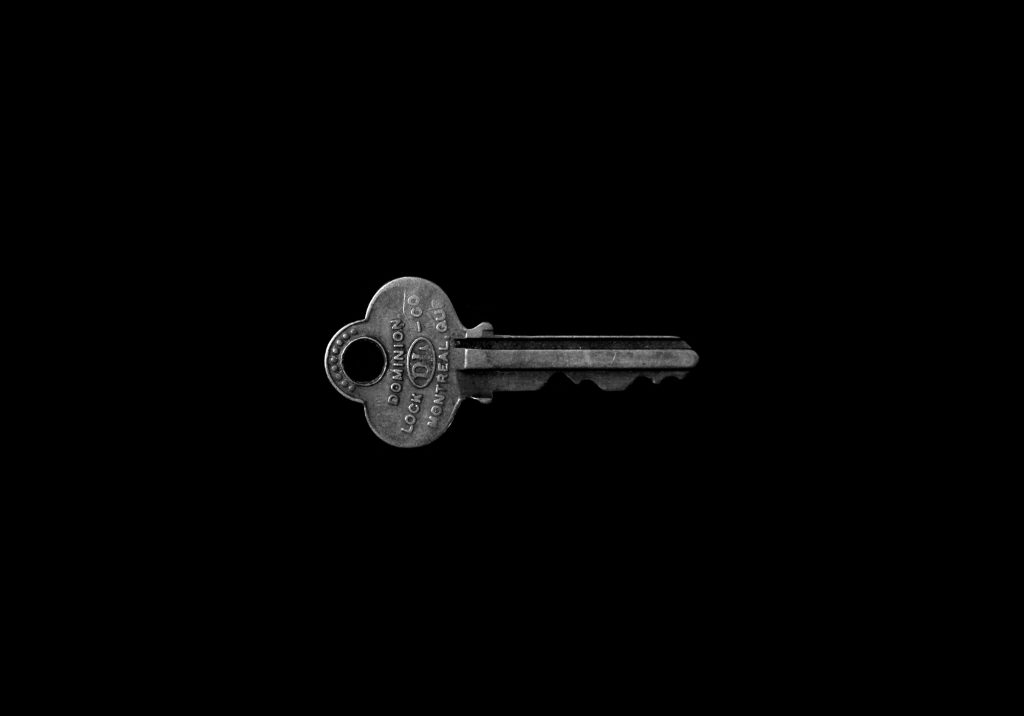 With all these features incorporated into one device, guests can worry less about losing things they need for their stay. The convenience doesn't stop there, however, as hotel smartphones also allow guests easy access to room service and the concierge, and are an easy and fast to use communication channel with their hotel as explained further below.
Free Calls and Free WiFi
Even if your hotel has a well-running app, what happens if guests need to use it but don't have internet access? With a smartphone, this problem is completely avoided.
With Manet's free unlimited local and international calls, and unlimited 4G connectivity in and outside the hotel property, your guests will never have to worry about connectivity and hidden charges.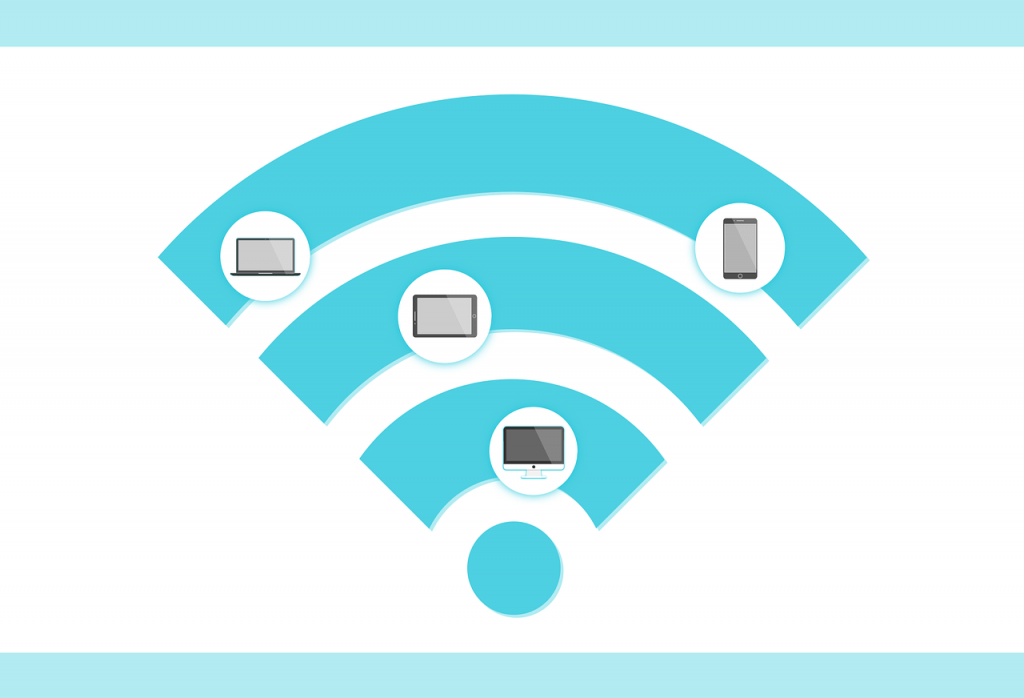 Even better, devices like Manet can also be used as WiFi hotspots so that guests can use additional devices, like personal laptops, smartphones, and tablets, without additional charges. Talk about earning good favor with guests! With easy 24/7 access to every online service and social app they could want and need, your guests will be taken care of at all times.
The Most Convenient Travel Tool
Whether you're traveling for business or pleasure, Manet traveler smartphones can help every hotel guest have an experience that's tailor made for them and their needs. Here are just a few of the features guests can access on their Manet device:
Tickets for local attractions, events, museums, etc.
Restaurant reviews, directions, and bookings
Tips and tricks to enjoying the city to the fullest
Maps and general directions
Local safety information
Texting with the Hotel
Hotel ancillary services ordering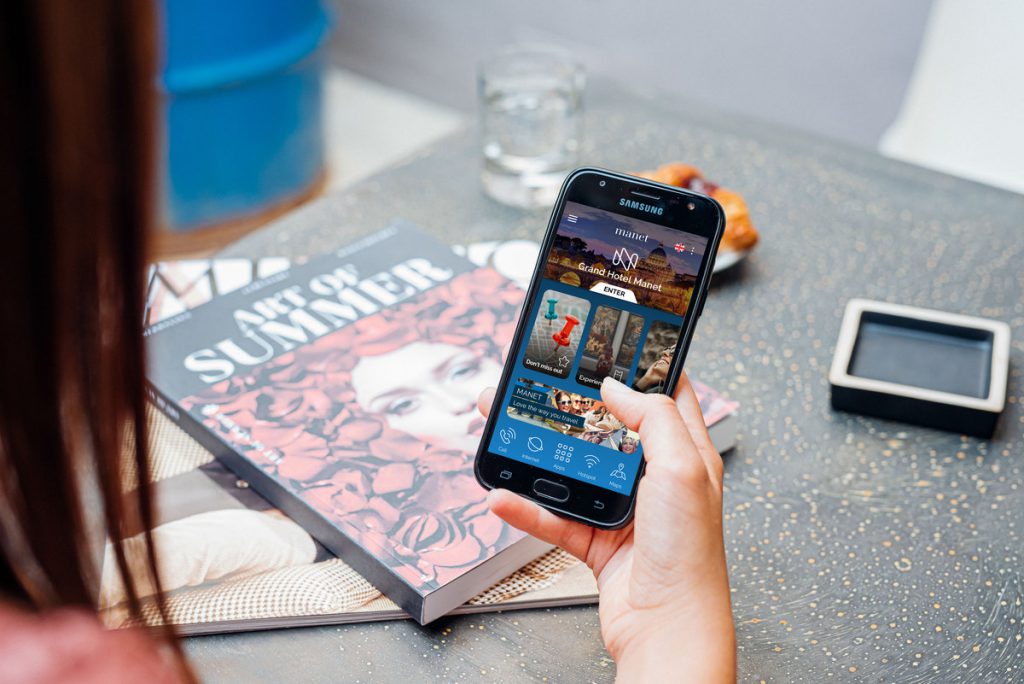 Having all this services and data collected on just one device, without needing to search and dig around for them, allows guests to relax and enjoy their stay and time in the city. Needless to say, this new way of traveling, accompanied by a hotel smart mobile assistant is being highly praised by guests who've gotten to take advantage of it. Hotel smartphones are also a great solution for parents, traveling with young kids, who just don't have the time to plan any last-minute outings without a ton of stress.
Revolutionary Service for Hoteliers
Traveler smart devices like Manet have made their debut on the market just very few years ago but are already delighting hoteliers at all levels of their industry. Here are just a few of the reasons for which solutions like Manet can enhance how hoteliers conduct business.
Feature-rich Dashboard: The Manet solution is not limited only to smart devices. It also has an saas web-based component allowing hoteliers control all of the device's services from a well organized web dashboard and offering them an innovative CRM improving and enhancing hotel-guest communication. Through the dashboard, hoteliers and their employees can chat with clients or send them push notifications ensuring their service is both timely and professional.
Reputation Management: Manet offers hoteliers an integrated multi-channel reputation auditing system, including detailed feedback from all major travel reviewing websites like TripAdvisor, Facebook, Google, Booking and more. Furthermore, thanks to this system, hotel guests can be sent invitations to review their hotel and messages preventing them from leaving negative reviews. Improving hotel reputation has never been so easy before!
Valuable Analytics: Manet's Dashboard helps hoteliers collect valuable data and analytics about the restaurants, events, places and activities that are favored by their guests. This way, improving guest experience and achieving guest delight becomes extremely intuitive.
Marketing and Revenue: Through Manet's Dashboard and devices, hoteliers can easilly increase ancillary service sales thanks to easy-to-edit-from-the-dashboard mobile device service menus through which hotel guests can order food in their rooms, book airport transfers, buy spa treatments and any other service is offered by their hotel.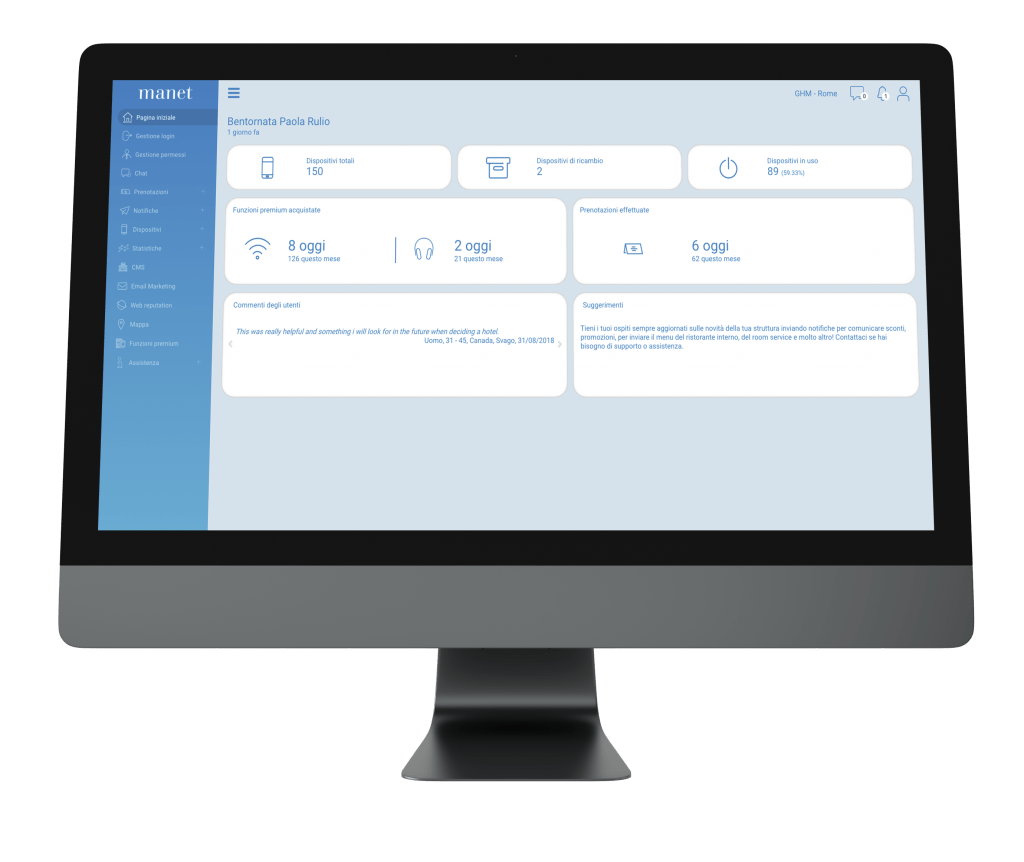 The Verdict
If you use a smartphone and have read carefully what's written in this article, you can easilly imagine why hotel apps cannot compete with Manet Hotel Smartphones & Dashboard and why the latter are making travelers' and hoteliers' lives easier and happier!
Visit www.manetmobile.com to discover more!